Visits
"We hope that when you visit us, you will feel that you are in the relaxed atmosphere of a family house. At Chavenage you can escape into the peaceful surroundings of a Cotswold manor, virtually unchanged for 400 years."
David Lowsley-Williams, Chavenage.
Poldark and Chavenage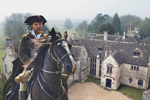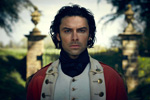 Prices, 2018
Admission Prices include a guided tour of Chavenage: adult £10.00 child £5.00.
Chavenage House is open to the public from 1st May to 30th September 2018 on Thursdays & Sundays from 2 - 5 pm (Last tours start at 4.00 pm). Also open on Bank Holidays, Easter Sunday, & Bank Holiday Mondays.
Please be aware we have no credit card facilities here at Chavenage, so could you bring cheques or cash.

Brochure download
Groups are welcome at any time or day through out the year, by appointment only. Refreshments by appointment, generally served in the Ball Room. Chavenage is available for hire for private functions such as weddings dinners and lunches. Chavenage is especially suitable for those wishing an intimate and personal tour, usually conducted by the owner, or for small groups wanting a change from the larger establishments.
Latest news from Caroline
We have already taken so many bookings for the next three public opening days:

Sunday, 12th August, 2018
Thursday, 16th August, 2018
Sunday, 19th August, 2018

We suggest that if you are planning a visit, you should avoid these dates – we are sorry but we just cannot make the house any bigger!
Thank you for your understanding.
Caroline Lowsley-Williams, 10 Aug 2018
Reviews

We visited on Bank Holiday Monday and were captivated by the atmosphere and warmth of Chavenage. I just wanted to extend my appreciation of the tour provided by (and I beg his pardon if I remember his name incorrectly!) David Lowsley-Williams as the tour he provided was such a refreshing change from the "average guided tours" provided by so many! We had the opportunity to exchange a few words with a very pleasant female family member after the tour and found her gracious and charming. How lovely that the family are so willing to ensure that their visitors feel a valued part of Chavenage. Thank You. I shall be enthusing the charms of Chavenage to friends and colleagues.
Laura-Jaine
Access
Disabled Access.
Chavenage is an Elizabethan building retaining many of its original features (dating from before 1576). As a result, there is unfortunately no wheelchair access, and there are steps and uneven floors throughout the house.

Health and Safety Advice.
In the gardens there are uneven surfaces, non-edible plants, low branches, and slippery surfaces in wet weather. In the building there are some steep stone steps, low doorways, uneven and slippery floors, and other steps not immediately obvious. Children should always be accompanied while visiting Chavenage.